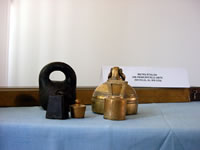 INM actively participates in the CIPM-MRA process, ever since the Signing of the Mutual Recognition Arrangement in 1999.
Within the EUROMET frame, INM participated in joint projects and claimed more then 300 calibration measurement capabilities (CMCs).
The acceptance of INM as a EURAMET e.V. founding member confirmed the recognition of the level attained in maintaining the national measurement standards and disseminating units of measurements, as well as in calibrating and measuring in accordance with CIPM-MRA requirements (www.bipm.org).
INM acts as the lead institute in the frame of EURAMET e.V. The designated institute in the field of Ionising Radiation is IFIN-HH (http://www.ifin.ro/research/departments/cpr.php).
Starting 2009, Romania through its INM participates in the European Research Programme in Metrology performed jointly in 22 UE members States (www.emrponline.eu).
Since 2014, INM participates in the European Metrology Programme for Innovation and Research (EMPIR) operated jointly by 28 UE member states(https://www.euramet.org/research-innovation/empir).